Winter Covers
Winter Debris Covers should form an essential part of the pool winterisation process. Designed to keep the pool clear of leaves and other debris, but allow rain water through, they will also reduce the risk of frost damage. Almost any shape and size of pool can be accommodated, including shaping for roman steps and ladder entry point.
Safety Covers
Safety covers are essential nowadays and are capable of supporting children, pets and even adults should they accidentally fall on it. It also keeps debris from falling into your pool when not in use.
Venetian Covers
The Venetian Cover System offers fully automatic opening and closure of your swimming pool. The cover itself is made of lots of long slats that stretch the entire width of the pool and are all connected together to form a rigid and strong cover.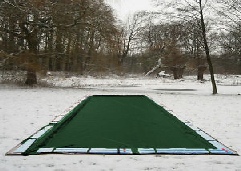 Solar Covers
The sun's heat rays will pass through the solar cover into the pool water. The cover will help in the prevention of heat loss by allowing some of the rays to be reflected back into the pool water and by also preventing heat loss through evaporation. With the metallic covers the sun will then be reflected back into the pool by the metallic gold or silver coloured underside of the cover, creating more heat retention than the conventional solar covers.